JK floorheating
Professionals in floorheating
Who is JK floorheating?
The key to success.
Sustainable success originates, in our opinion, solely as a result of an interaction between different parties. The right parties should come together to create success. But also using the right qualitative products and skills, values and opportunities. According to us, this is only possible in an atmosphere marked by honesty and trust en which offers room for development, progress and improvement and where, if necessary, solutions are being found together.  When we define sustainable success this way, it will not only come, but actually be success"ful".
JK floorheating is a Dutch organisation with branches in multiple countries, which designs and installs low temperature heating systems based on ground floorheating in different types of screeds with a patented grinding machine and their own floorheating pipes. Our manifolds for the low temperature heating systems are produced in the production centre in Ede, which means they can be customised according to the client's wishes.
Within the Dutch organisation there are several departments. One of these is Engineered Solutions, which focuses on both renovation and new construction. They design, deliver and assemble all possible low temperature heating systems varying from ground floorheating, concrete core activation to climate ceilings. The designed release systems are recorded at accredited laboratories in Europe, such as TNO, WSP, IGE and WTP.
Sustainability plays a big role within the company of JK floorheating. In the past years JK floorheating has taken large steps within our long-term vision for a sustainable future. This is especially clear to see in the headquarters in Ede, consisting of three renovated buildings where the JK fermafloor system has been applied. The architectural shell of the three buildings has been fitted with extra isolation and all the roofs have been fitted with solar panels, a total of 598, providing 142 [kWp]. The WKO installation has been topped with two water/water heat pumps by Danfoss which work together to heat the water depending on the weather in the winter. The unsubsidised installation is going to help make the buildings energy-neutral. All buildings have been fitted with JK's own low temperature heating systems and high temperature cooling systems topped off with a high efficiency WTW air handling units for ventilation.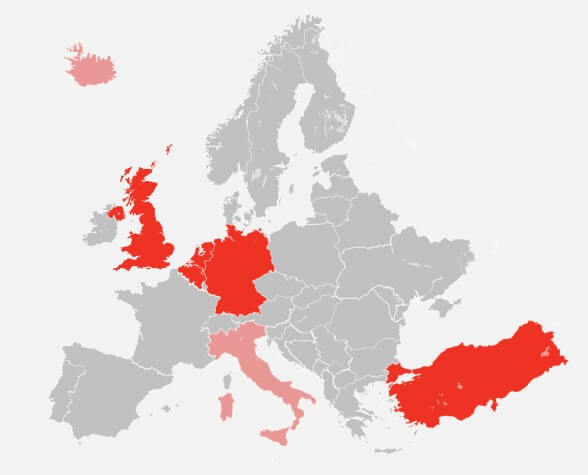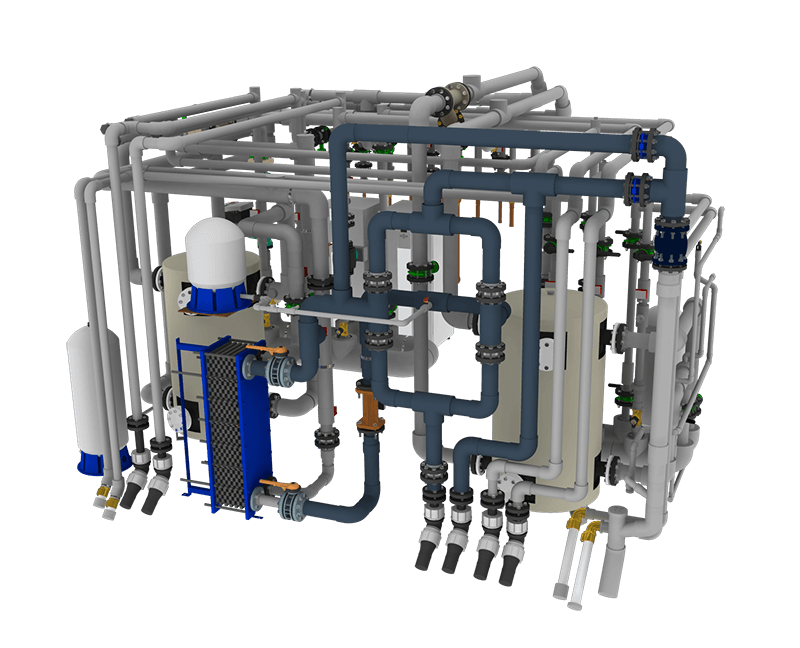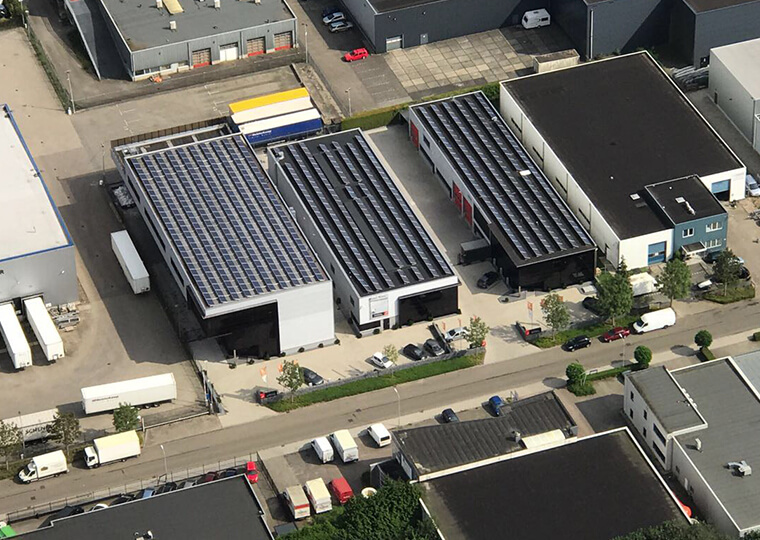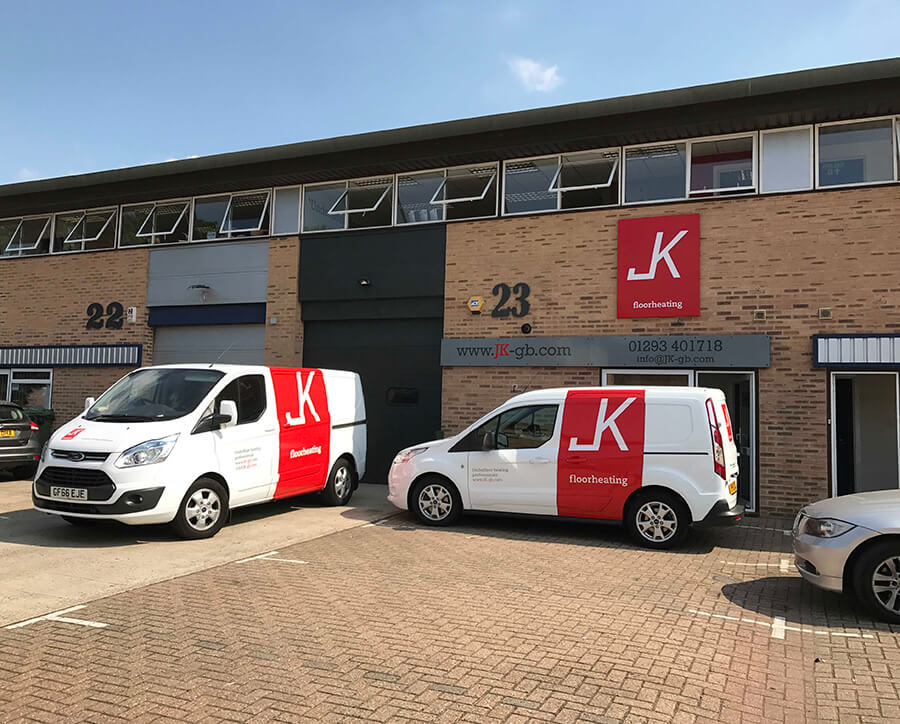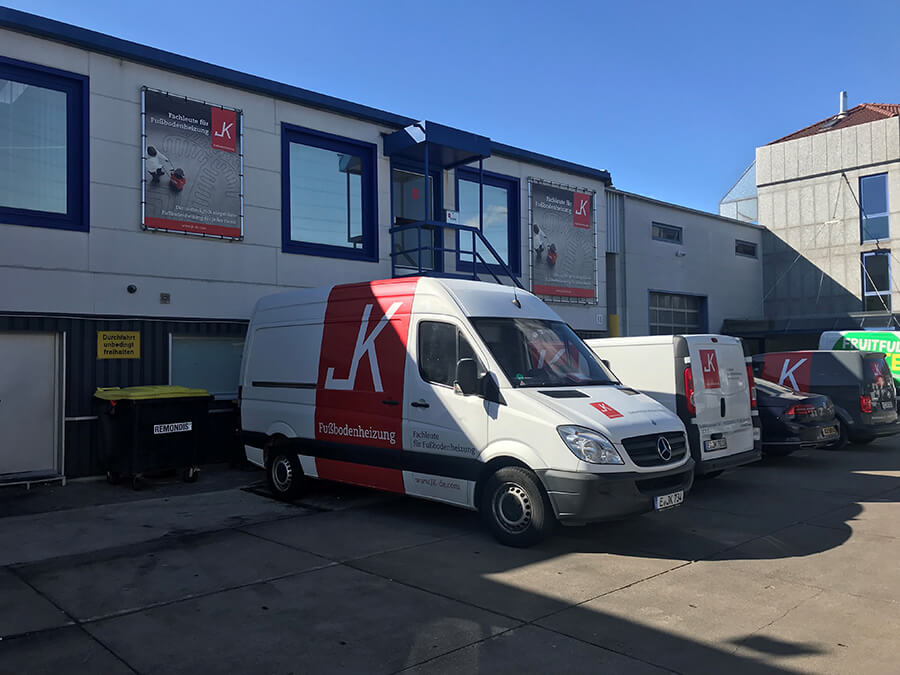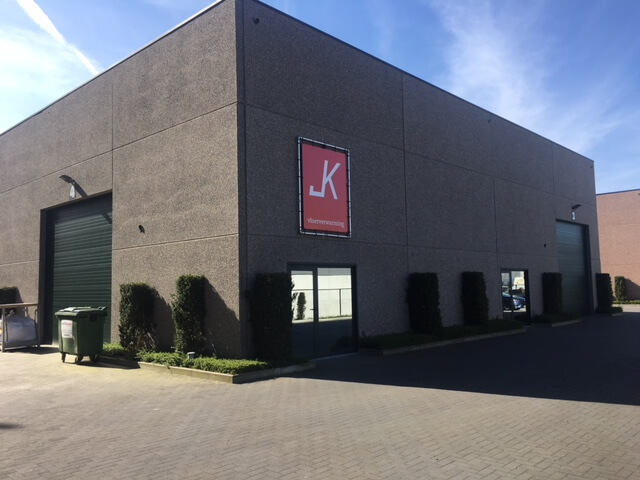 JK floorgrinder
Patented grinding machine
The "floorgrinder" is a patented grinding machine used to grind slots into the screed. This unique and neat slots pattern is ground without producing any dust into the working area where the floorheating pipes are placed. Because the grinding happens using a multi-resistant industrial diamond cutter, it can be applied to 99 [%] of all screeds.
With the floorgrinder it is possible to grind through existing tile floors. During renovation work this can prevent a lot of chopping and breaking. Of course it is necessary to take into account the extra build-up of the new tiles. Moreover, in this case JK floorheating usually starts with a test-grind to determine whether the existing tile floor is suitable for grinding floorheating.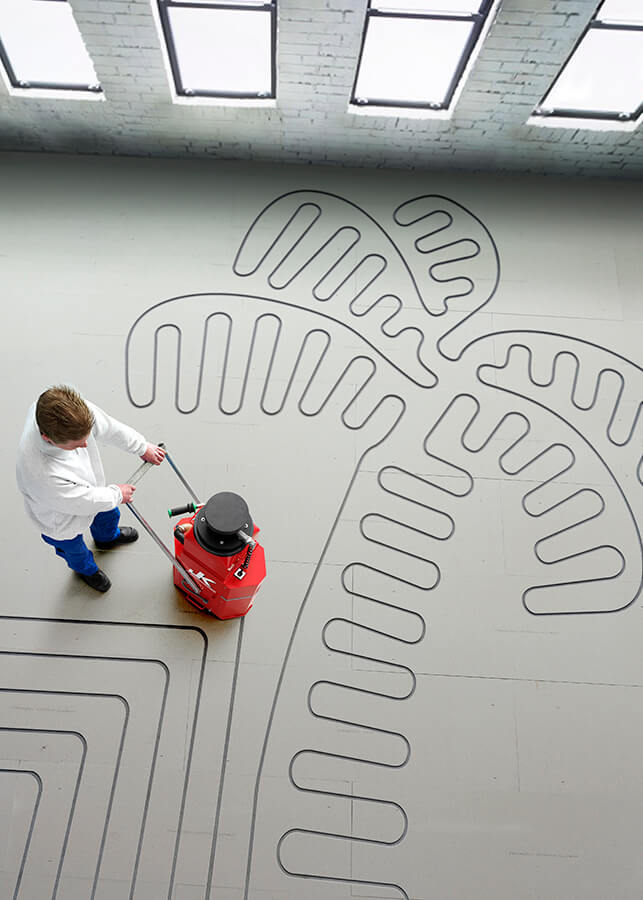 Manifolds
As mentioned before there are different departments within JK's organisation in the Netherlands. Another one of these is JK floorheating systems. This department is the production unit which is responsible for the fabrication of high quality stainless-steel manifold systems. Under their own management, a complete range of manifold systems are produced in a semi-automatic production process. JK floorheating systems produces and assembles all stainless-steel manifold systems that JK uses in their low temperature heating and high temperature comfort cooling systems. This enables JK to meet specific demands and wishes for different projects. Whether it is about a high efficiency pump or a specific thermo motor for a certain regulator, anything is possible.
JK floorheating's manifolds are high quality products composed out of high quality materials and components. Innovative valve construction and advanced production techniques with corrosion-free materials make the JK manifolds one-off products with never before seen characteristics and possibilities. The patented valve construction makes it possible to easily adapt the manifold in different situations, making it very practical and multi-functional.
The welding of the stainless-steel components for example, is automated and done by a Tig-welding robot, after which a pickling bath and ceramic pearling ensure that the manifold is a top-notch product, both qualitatively and aesthetically.
Depending on the warmth-inducer in a building, it is also possible to place an LT-manifold (low temperature). These LT-manifolds (including ball valves) often do not need a mixer pump because the temperature of the warmth-inducer is already low enough (<55 [°C]).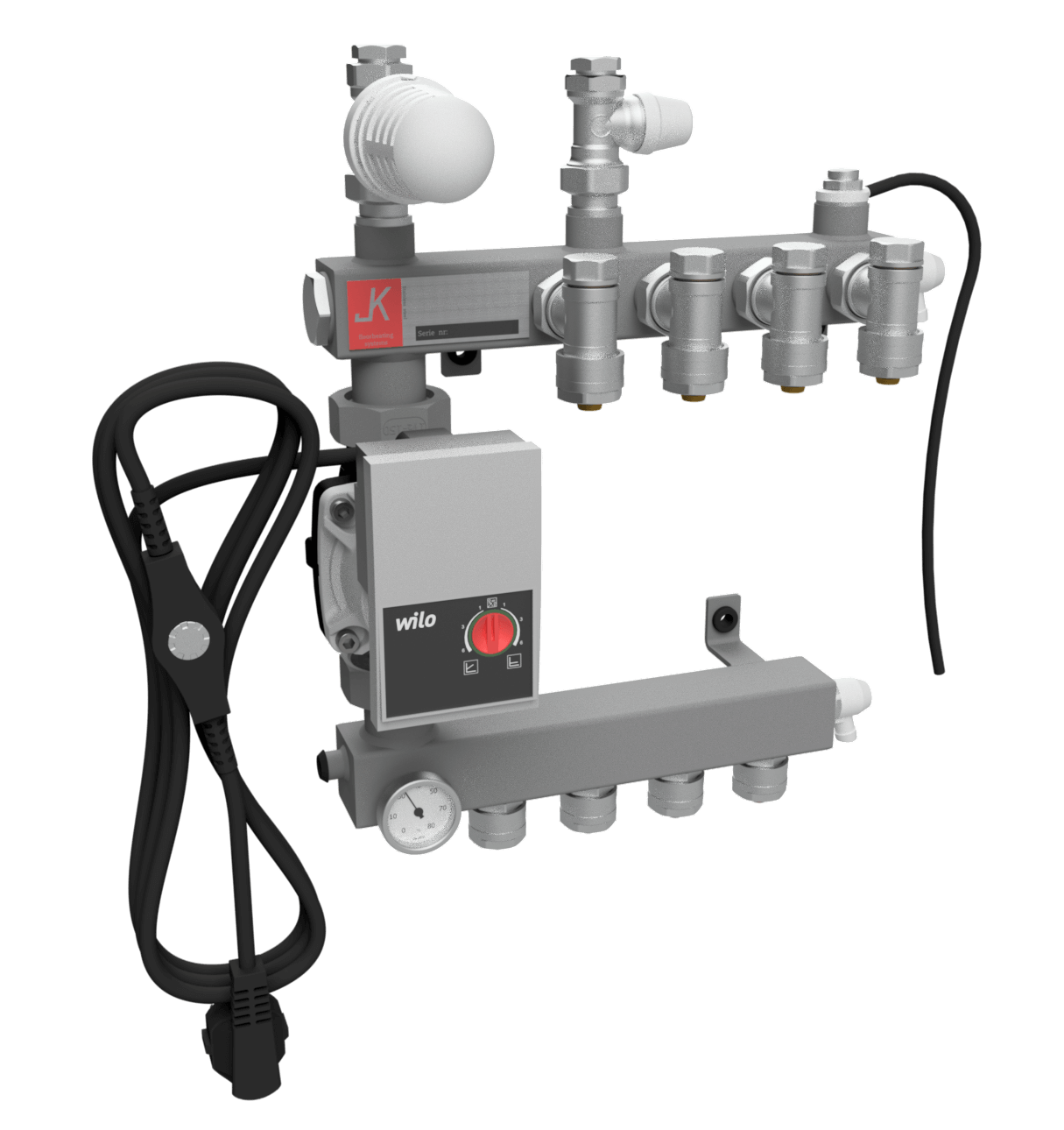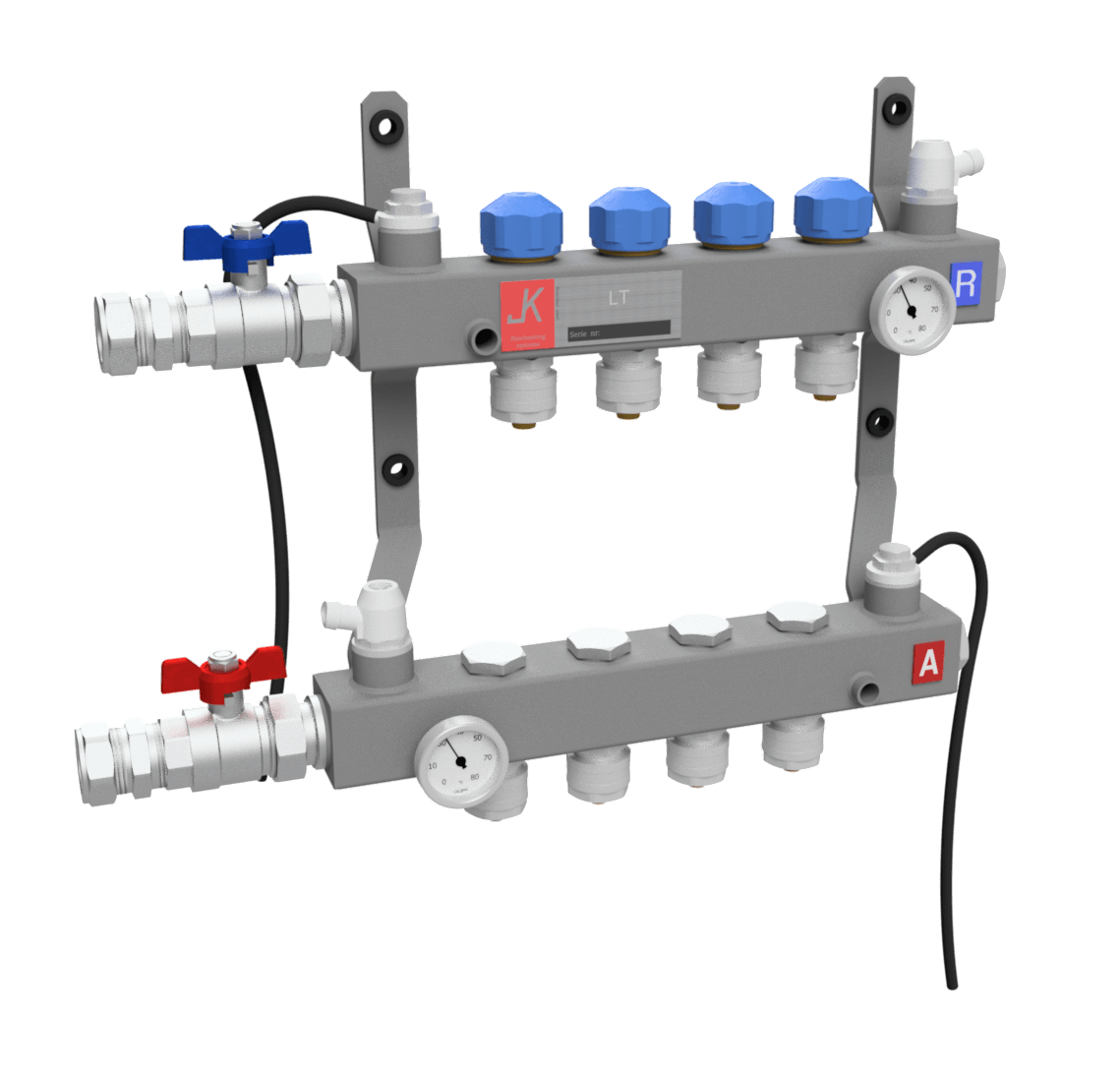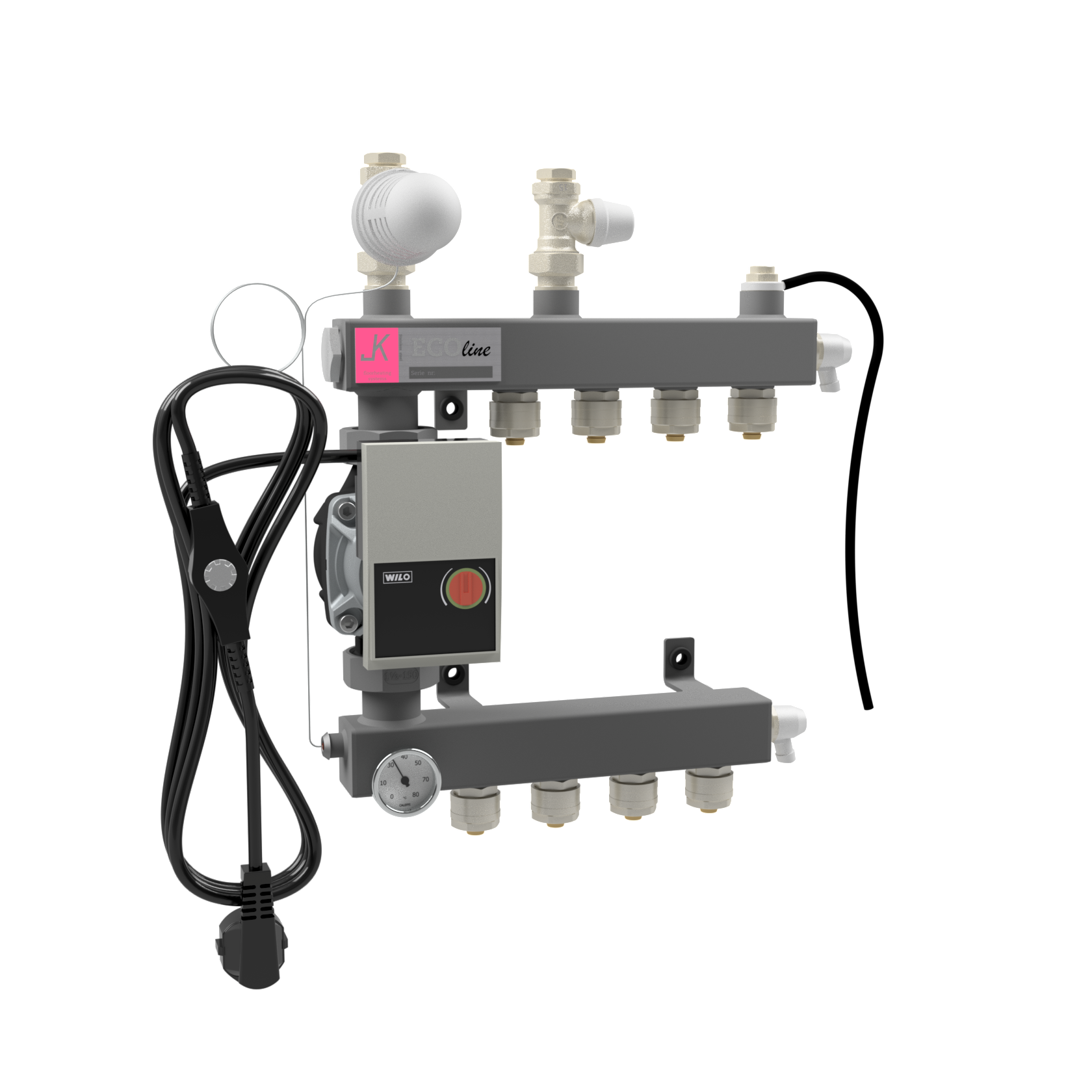 JK flextube Inverse Soft
JK has these heating pipes produces with specific characteristics by a well renowned German family business.
Floorheating pipe PN6 – – Ø14×2 [mm]. The applied JK floorheating pipes (JK Flextube Inverse Soft) are oxygen diffusion tight Poly Ethylene or Raised Temperature resistance (PE-RT) pipes according to the DIN certification. The floorheating pipe is built up of 5 layers, where the oxygen tight barrier layer of Etheen-Vinyl Alcohol (EVOH) is applied internally within two layers of polythene. The pipe meets the German norm DIN 4726/4721 and the Dutch KIWA-KOMO assessment guideline BRL 5602 for floorheating/cooling.
Innovative. The optimised layer design of the JK Flextube heating pipes finally ends the search to a universal heating pipe. The JK Flextube floorheating pipes are the first pipes which are not only suitable for a wide selection of connectors, especially all standard montage systems like sliding sleeves, pressure or clamping ring connectors, but also for innovative press fittings.
The design and the thickness of the different layers not only results in an unparalleled protection of the oxygen tight barrier layer, it also vastly improves the flexibility and resistance to kinks. At the same time the bursting pressure and long-term strength at higher temperatures is raised. All of this makes the JK Flextube the best performing and most flexible hot-water pipe for the floorheating industry.
The JK Flextube Invers (up to 10 [bar]) and the JK Flextube Inverse Soft (up to 6 [bar]) both have a KOMO attest-with-product certificate. This attest-with-product certificate is based on BRL 5602 product certificate K50264/K92058 according to the KIWA rules for product certification.
Inverse literally means the other way around. This means that the EVOH barrier layer is placed more towards the inside than before. This strengthens the pipe and makes it less sensitive to breakage.

Additives
JK sealing compound
The JK sealing compound is a two-component, solvent-free, transparent and glossy sealing layer based on epoxy resin.
Application:

Suitable as liquid-tight floor finish.
Available as a set of two cans with a total weight of 8 [kg]: component A (can of 5.60 [kg]) and component B (can of 2.40 [kg])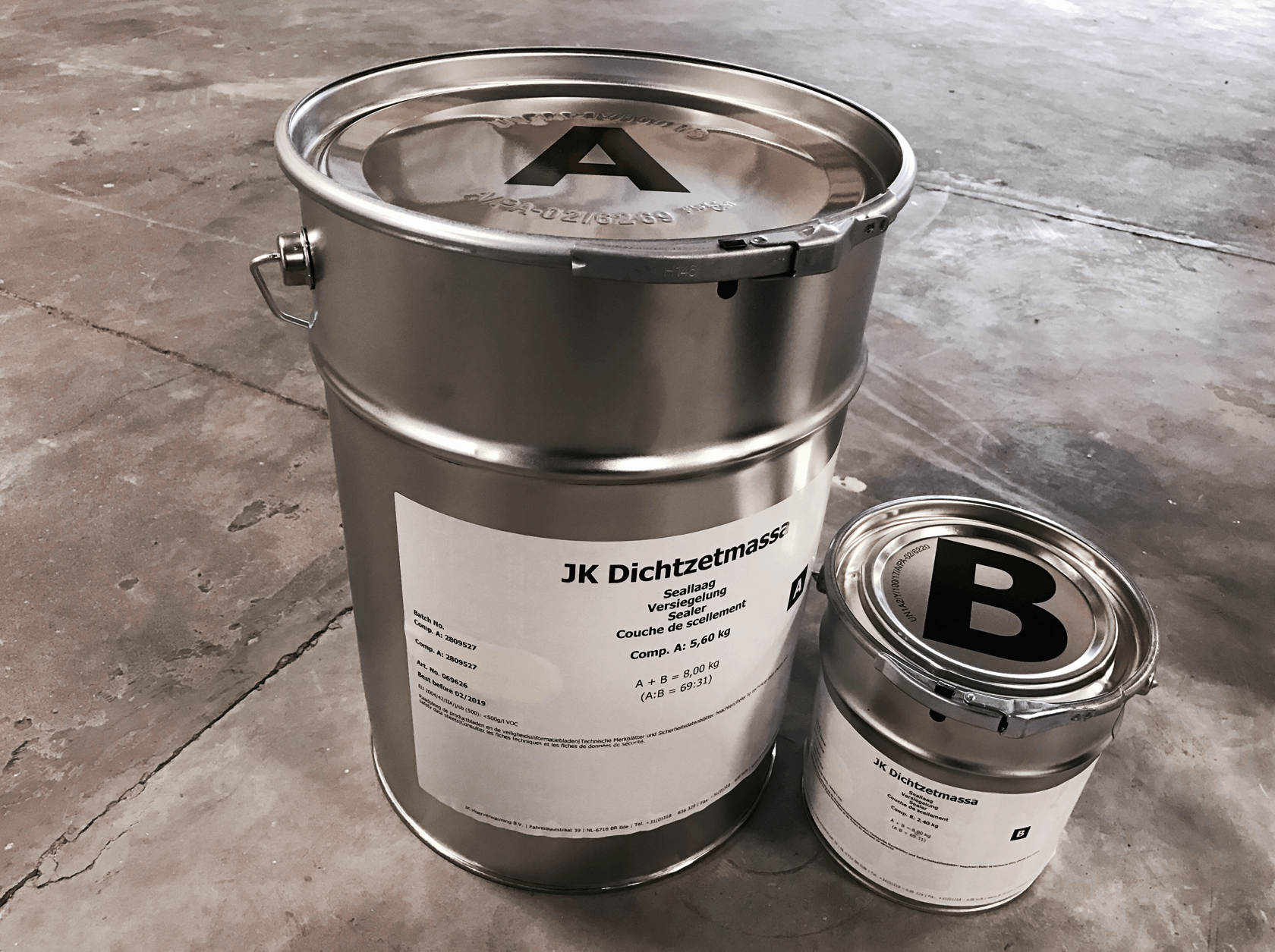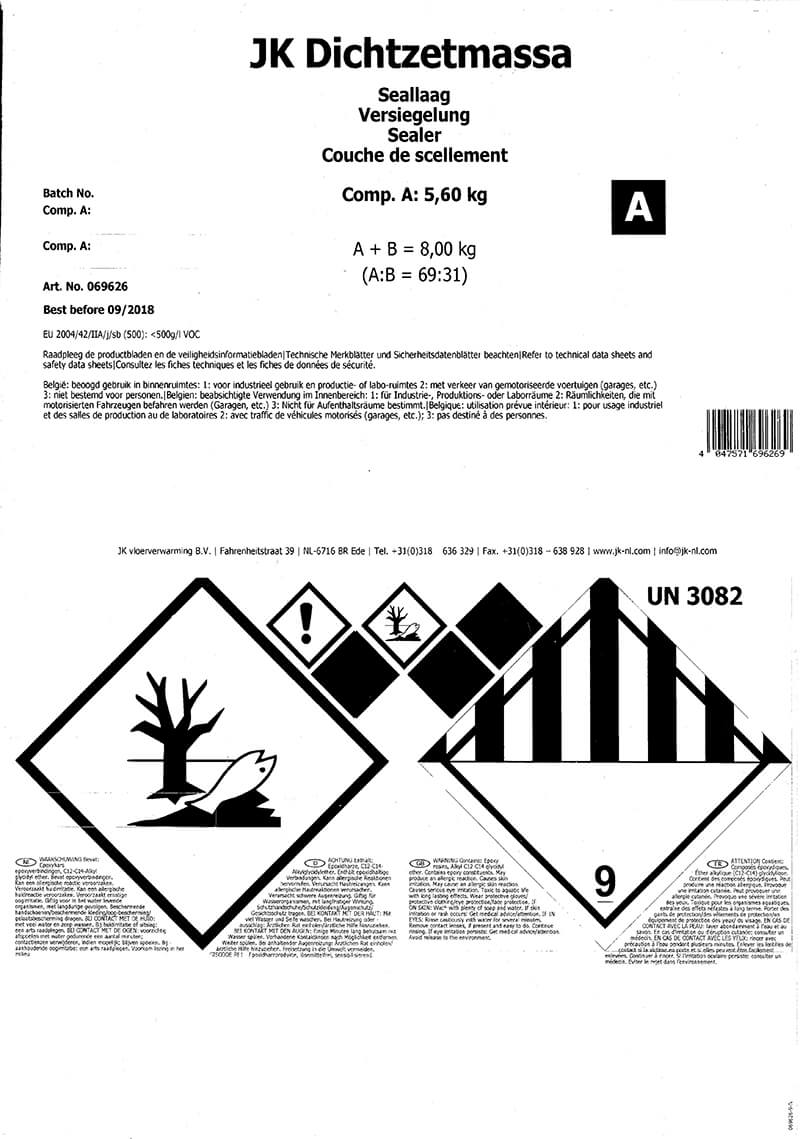 Additives
JK fermafloor primer
The JK fermafloor primer is a dispersion floor primer (used to help improve the bonding of the JK fermafloor levelling compound to the underfloor) for absorbent surfaces. This floor primer is a solvent-free floor primer for treating the fermacell Flooring Elements with the ground JK flextube floorheating pipes. The primer is applied evenly and opaque using a nylon roller (14 [mm] height). It cannot be poured straight onto the floor, it must be equally divided. For the edges a brush is used.
– Dilutable with water, user-friendly
– High ability to penetrate, offers great security
Application:
– Specific for JK fermafloor system option B
Qualities:
– Ready to use
– Very thin and flowing
– Fast-drying
– Enhances bonding
Processing conditions:
– Processing temperature >10 [°C]
– Relative humidity <75 [%]
– Drying time approximately 45 minutes
– Consumption 100-150 [g/m²]
Available per jug of 10 [liter]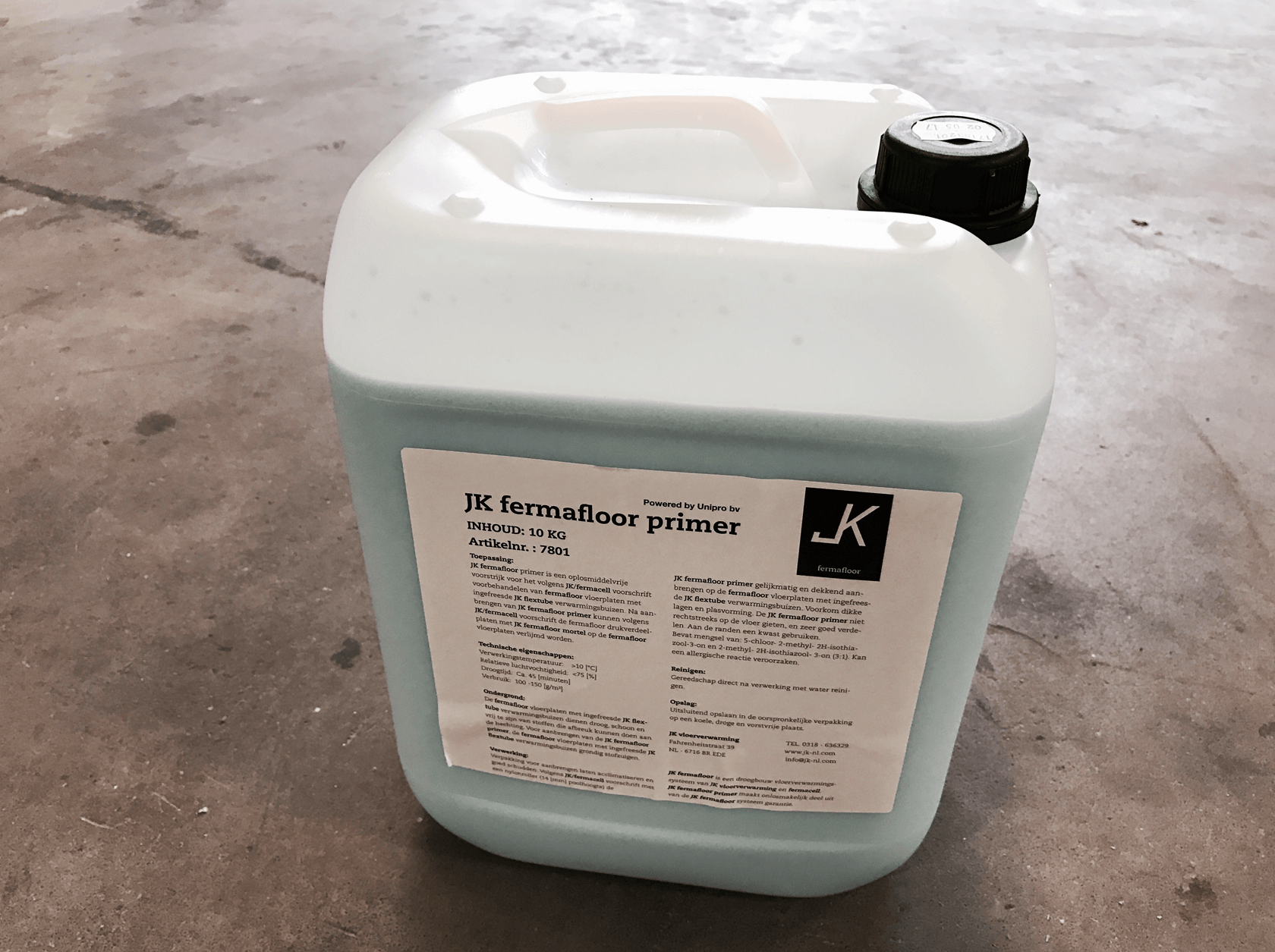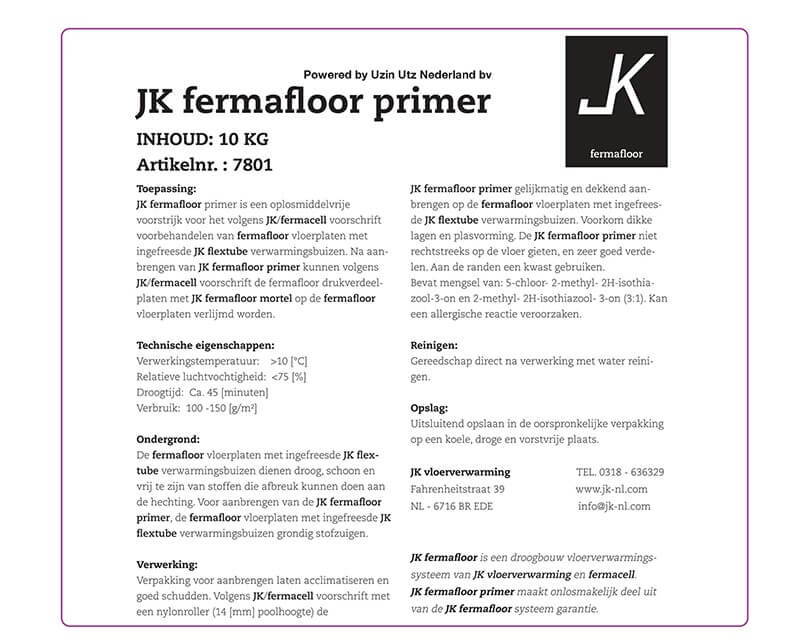 Additives
JK fermafloor levelling compound
JK fermafloor levelling compound is flexible, hydraulically hardening and improved with plastic thin-bed mortar. This levelling compound is especially suitable for bonding the JK fermafloor top board. This all happens according to regulations by JK/fermacell. The smooth consistency makes the levelling compound quite easy to apply.
– Excellent processing qualities
– Meets the C2 TE S1 standard accordint to DIN EN 12004
Application:
– Specific for JK fermafloor system option B
Qualities:
– For heavy loads
– Steady
– Longer open time
– Bed of mortar of up to 10 [mm] thick
Processing conditions:
– Processing temperature >10 [°C], optimally 15-25 [°C]
– Relative humidity <75 [%], optimally below 50 [%]
– Processing time approximately 2-3 hours
– Drying time approximately 30 minutes
– Consumption approximately 3-3,5 [kg/m²]
Available per bag of 25 [kg]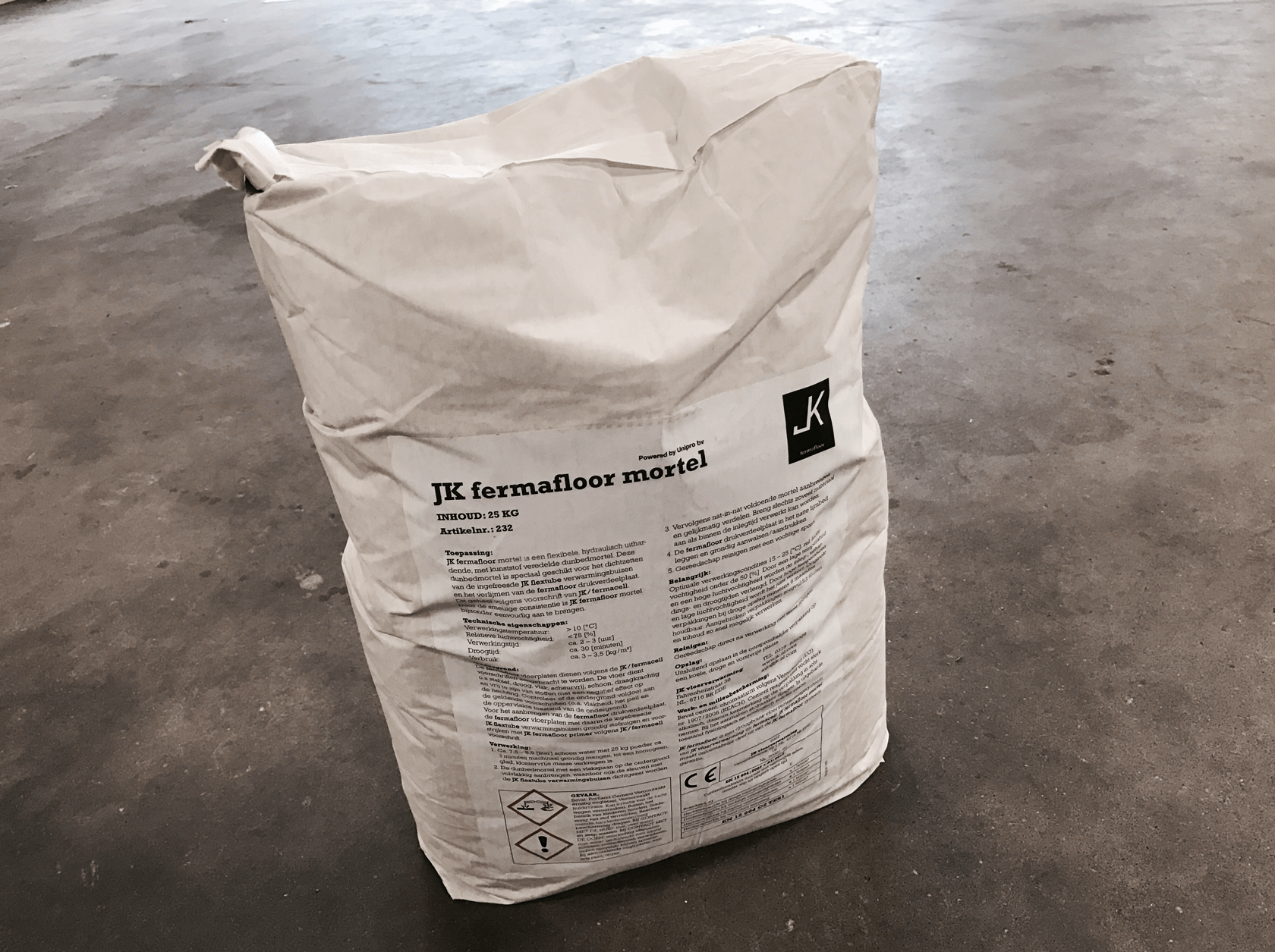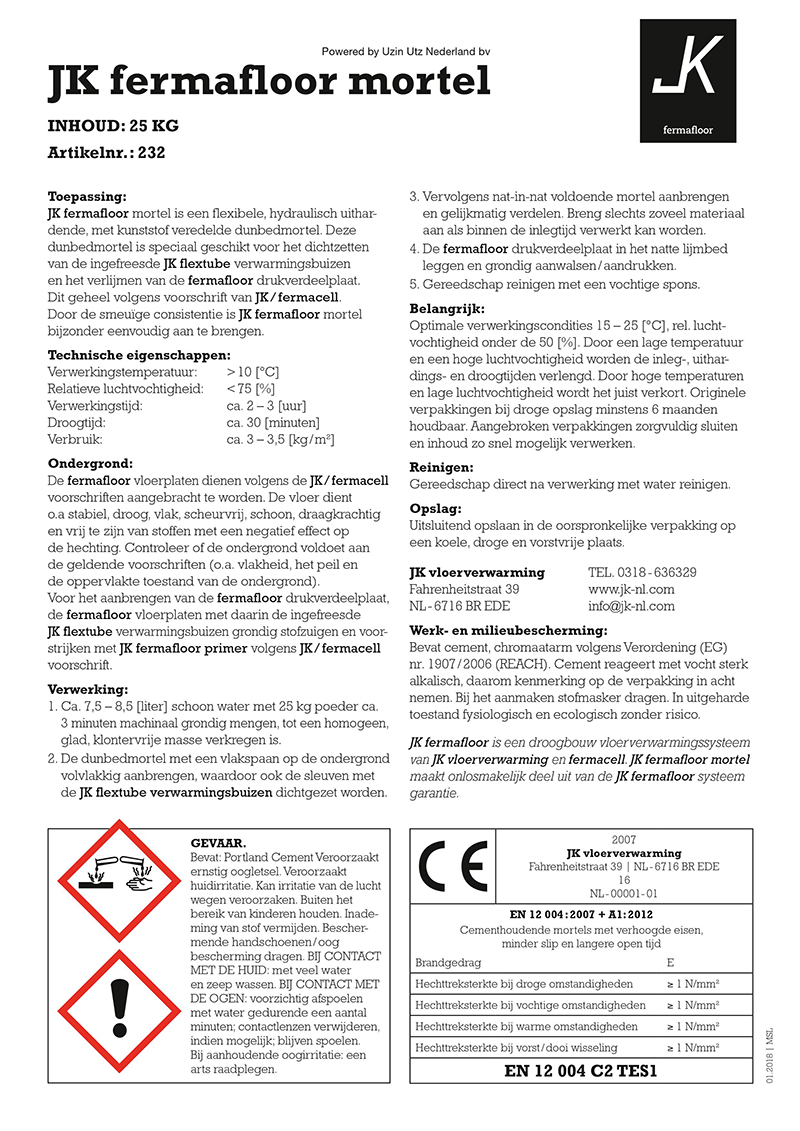 Partners JK: Danfoss
Danfoss Icon is the ultimate regulation system for hydronic floorheating
Danfoss Icon is an advanced zone regulator for hydronic floorheating and cooling. This thermostat provides one complete solution for the 24 [V] wired or wireless regulating of the temperature per room. Besides this, the main regulator can be expanded with an app, which is available for both Apple and Android. With this app, the regulation system can be controlled through a mobile device to control programming times and temperatures etc.
More information can be found in the Danfoss Icon folder.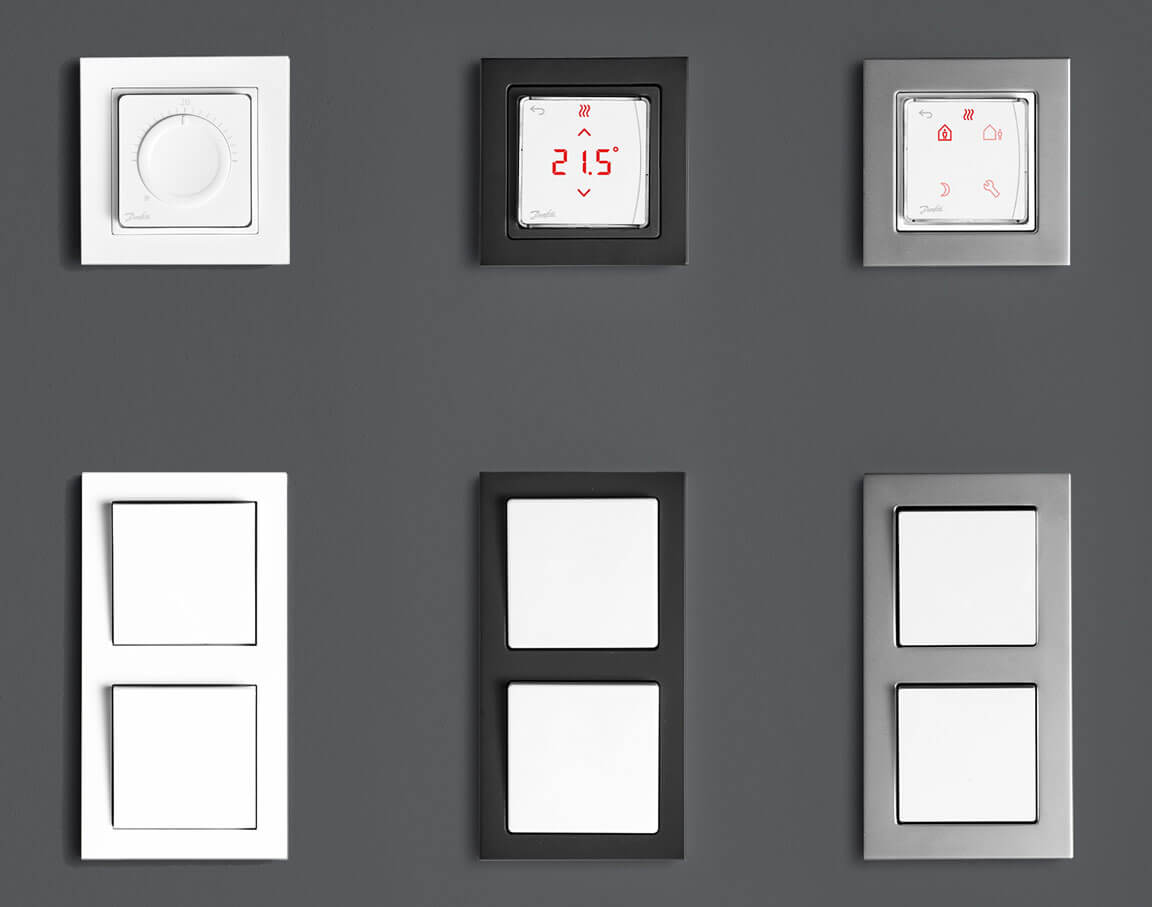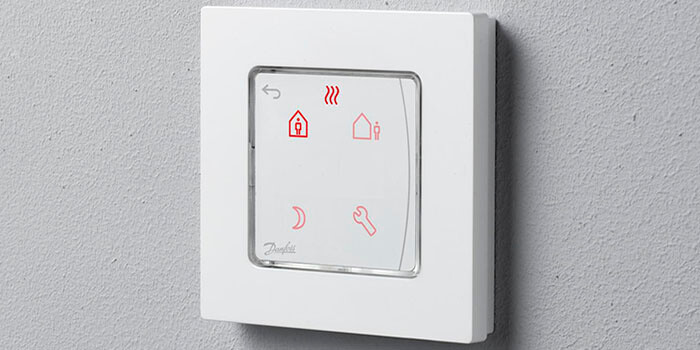 Partners JK: Wilo
Pumps and pump systems for heating, climatization, cooling and tap water
WILO SE, with its headquarters in Dortmund, Germany, is a leading manufacturer of pumps and pump systems for heating, cooling, airconditioning technology, water supply and wastewater drainage. The company was founded in 1872 by Louis Opländer as a factory for copper and brass products. Wilo is represented worldwide by 60 subsidiary companies and has approximately 7,500 employees.
The Wilo Intec approach is completely personalised and adapted to each customer. Their methods and products are coordinated to fit each market and country. To enhance customer satisfaction Wilo Intec has invested in state of the art technologies, including a new laboratory. They have more than 300 customers around the world, among which are big names like Vaillant, Saunier Duval, Viessmann, Biasi, Baxi, MTS, Riello, Bosch, ELM Leblanc, De Dietrich, Ferroli, Nefit. Wilo works closely with their customers, the development of real partnership, regardless of the size of the company.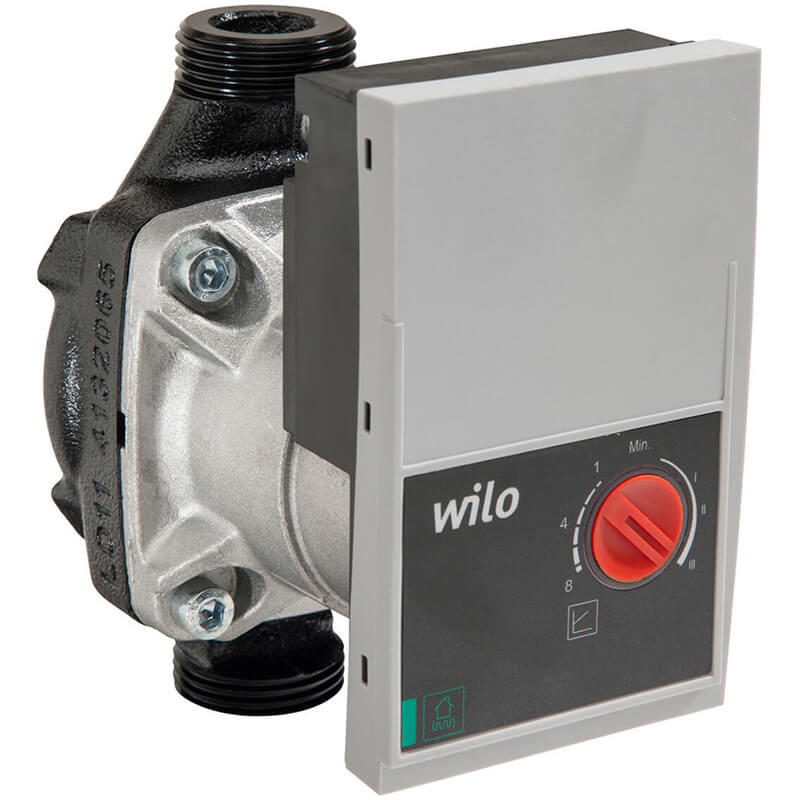 Experience Centre
Come visit us!
In our new Experience Centre, we have the unique opportunity of showing visitors all forms of heating systems, both heated and cooled, using our own sustainable installation.  All forms of floor finishings are presented here. Together with our partners we can give customised advice to architects, corporations, processors and private individuals.
Watch our introduction video and experience the Experience Centre